Local Locksmith - Commercial Locksmith
Tel: 866-301-8377
We are proud to have a dedicated crew of locksmith at Local Locksmith that has forged good working relationships with businesses in the local area for many years. Our crew offers end-to-end locksmith services as well as professional security consultation to esteemed business clients across this area. Local Locksmith operates a modern fleet of mobile locksmith units equipped with a complete set of standard locksmith tools, allowing us to arrive on your premises and take care of business like pros!
Trusted by many, our locksmith technicians can assist business owners as well as company executives, identify personal needs and implement a robust security network that fulfills their needs. We have the capacity to provide assistance to various kinds of businesses that may be in need of our standard locksmith service, including but not limited to:
Restaurants
Office Spaces
Retail shops
Assisted Living Care Centers
Business Outlets
Malls
Schools / Universities
Hotels / Motels
Hospitals
Apartments
Banks
Our locksmith technicians boast of a wealth of experience in evaluating specific situations and determining the needs of commercial clients, acting as an invaluable resource for businesses and establishments looking for cost-effective and multifaceted solutions to safeguard their valuable assets. Working hand in hand, our professionals can assist your security personnel to decide whether an advanced locking system that controls access to vital areas in your premises is ideal for you or not. We are happy to enumerate the benefits of having an exclusive digital lock system that grants authorized access to employees only.
Our Commercial Services Are:
Installation of new locks.
Repairs on damaged locks
Office lockout solutions
Safe opening/installation
Recommendations on locks
File cabinet locks
High security lock setup
Broken key extraction
Overnight lock change
Damaged door repairs
Key duplication/making
Magnetic locks
Digital lock setup
Deadbolt installation
Advanced security solutions
Rekeying locks
Multilayered master key system
Push bars installation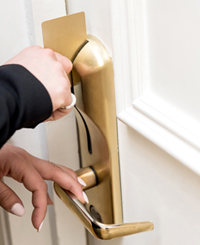 At Local Locksmith, we have also honed our expertise in the design and implementation of secure master key systems, granting highly valuable members of staff the freedom they need to execute their day-to-day duties without exposing sensitive zones to threats. If you so wish, we can assist you to replace locks or customize each door in your business premises, office space, hotels or just about any other facility that has a significant flow of traffic within 24 hours, allowing you to assign the appropriate or desired level of access to key staff members via a system of sub-master keys.
We are adept at installing digital locks, which is one of the most sought after security solutions in the local area. It's the perfect replacement for conventional keys & locks, providing you with an access code that can be enabled and disabled at will. We eliminate the fear of losing a lock key, by establishing a foolproof system that grants you complete control over who can access sensitive areas or zones within a business premise.
Apart from this, we also assist commercial clients across the local area with other desirable security measures. We have the capacity to install robust, break-proof doors that minimize intrusion and deter vandalism and unauthorized access to specific areas. Our security professionals can help you install state-of-the-art high-security locks as well in any area of your business, office, or premises so that you don't have to worry about manipulation attempts by miscreants. We provide our clients with a wide range of options that allow them to implement a multilayered security defense system for their businesses, giving them the peace of mind they need to conduct day-to-day operations without fear.
At Local Locksmith we know that lock and key issues not only limits access to both employees and customers but has the potential to damage the flow of business by limiting access to valuable resources. A small issue such as a misplaced key could make customers leave your premises frowning and disgruntled, this is why we provide 24-hour emergency locksmith services to ensure you open your doors and access your premises quickly. Being specialists in emergency locksmith services in your local area, our locksmith technicians can bring any undesirable situation to an end.

For all your business locksmith needs, get the solution by reaching out to us!